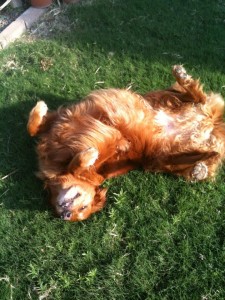 So, this morning was our first oncology appt with Dr. Szivak (pronounced civic) and the good people at Tucson Veterinary Specialists.   As soon as we walked in – the focus was on Sam (the way he likes it) and all the energy was positive.  The staff is amazing and I've never seen so many enthusiastic people working in one place.
Sam had me laughing from early this morning – first I tried to get out of bed and he convinced me that I could use another hour or so sleeping with him snuggled into my chest.  Fine.  Then we got up and I went outside to feed the fish before we were about to leave – and the photo is what I saw when I turned around from the fish pond – seriously, this dog is sick?
He doesn't know it and I think that is my lesson for today.
All he knows is that he met some nice people today, new friends…  yeah sure, they took his temperature (hate that) and they checked his prostate (he didn't know what that even meant and REALLY hated that) but everyone also gave him love, attention and started calling him "big red dog" almost like they have always known his nic-name.   His arm hurts, but that doesn't change who he is nor does it affect his goofy perspective on things.  His goal in life seems to be to have fun – always, where ever he is and to make sure all the humans around him are smiling too.
We go back this afternoon to pick him up – he is getting xrays of his lungs to see if the cancer has spread.  They are also doing an ultrasound of his belly – just in case there is something there that could cause a complication – and they are running a full blood panel to make sure his kidneys are working fine.   Dr. S is also looking more closely at his x ray that shows the tumor and will try to do a needle biopsy – which is not nearly as scary as a bone biopsy.  24 hours and we should know what we are fighting.
This afternoon, we should know if he is in strong enough condition to fight it.
game face,
Andy