Well, someone's sense of humor and entitlement is returning!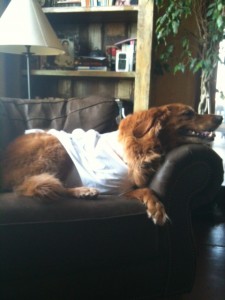 Samdog has decided that the place to be is in my chair.  I got up to encourage him to laydown on the bathmat at my feet.  He stepped in behind me and stepped up onto the chair. This was the second incident of chair stealing in one morning.
You are welcome Mr. Dog, sir!
7 days into our new adventure and Samdog has discovered that he can once again step up onto the furniture – where he belongs.   It helps that he is so tall, it doesn't require jumping, just stepping up.
We actually discovered this early this morning in the first chair theft incident, when he stepped up onto my chair, with me still in it.  If this is going to become our new normal – we might have to rediscuss boundaries.  But today, to have my 80 lb retriever back as a lap dog, I didn't mind so much.
Happy first week ampuversary, my big, red, shaggy loverboy.