I tend to throw the word "adventure" around when it comes to Sam, so I think it is important to explain that I use that term in its full intended authenticity.   Me and Sam are like peas and carrots who love to go to new places and look for new things. I think it is why we made it as a search team for so long.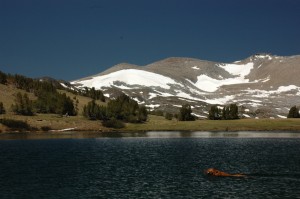 We even go on vacation together. A girl and her dog in a truck and off we go, dad is usually invited but rarely can join us.  This summer we took two weeks to explore Yosemite and the eastern Sierra – we made it a goal to hike to and swim in a glacial lake every day.
So, it was quite a treat when DAD says "can you take Tuesday off so we can go to New Mexico for the holiday weekend?"   um, what?  really? Sure!  Let's go.
We have taken day trips since his surgery, but this was our first overnight trip and we decided to make it a trip to visit Sam's friends who have been so supportive through this whole ordeal. 
We are 7 weeks post amp, two chemo treatments down, and this was a good week to head out.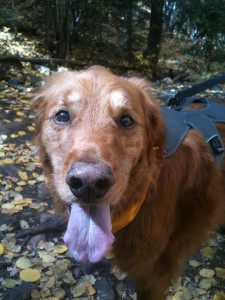 First stop was in Deming to visit his Uncle Ken and Aunt Nancy who we have known for 9 of Sam's 10 years.   Then up to Sante Fe to see my brother and his lovely wife.  Together, we went out to the Jemez mountains because I wanted to see aspen leaves for my birthday.  We don't get much color down here in southern Arizona, and it was time to see some autumn leaves.  It was gorgeous.  We drove up to a picnic area and expected to sit in the sun for a while.  Sam had other plans.
He found a trail.
He decided to hike that trail.
So, we followed.  He was happy about it and I think I snapped my new favorite photo of him.
We didn't go far as it was pretty steep and had lots of roots and rocks to navigate.  At one point he jumped over a 2 foot wall, just because it was in his way.  Yes, there was a trail to go around it.  But Sam decided to go over it.
We splashed in a creek, sniffed some rocks, and he ran ahead and waited.  Our new motto is we don't go far, but where we go, we go fast!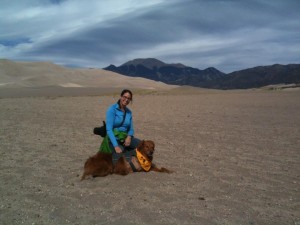 From Sante Fe, we moved north to see our bestest friends Deb and Fred and Millie.  Millie is a beautiful golden girl who Sam loves, and Deb… well, all dogs love Deb.
_We took a day trip up to Great Sand Dunes National Park and tried to go for a hop on the sand.  Sam was game, but man… sand is hard to hop on.   We didn't make it to the dunes, but we got a good picture of me and my dog part way out. Instead of continuing, we headed back over to some more aspen trees and Sam was ready to go.  So, we started hiking… and he kept going, and going…  it was a loop, so we stayed with him and took breaks when he needed them.
We went a whole 1/2 mile and he still had energy to spare.  Every time I think he can't do something, he does it anyway.   He is our Sam and is up for anything.
Game on.  Let's keep planning adventures!